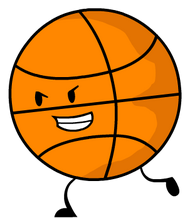 Basketball is a male contestant on
Object Universe
. He is team captain of
Team Strength
and is extreme rivals with
Ice Cream
.
Blast into Space
Edit
We see BB telling Ice Cream to lose, but she refuses, but is knocked off by Map anyway, giving Basketball's team victory.
Revived Rivals
Edit
in the rejoin contest in Revived Rivals, he only recieved 85 votes, placing him 7th.
Ad blocker interference detected!
Wikia is a free-to-use site that makes money from advertising. We have a modified experience for viewers using ad blockers

Wikia is not accessible if you've made further modifications. Remove the custom ad blocker rule(s) and the page will load as expected.