To catch a Kite is the third episode of 
Object Twoniverse.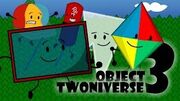 Window announces the challenge as Hide and Seek! After, he decided he wants Chaterbox to join the game, and Chaterbox joins Team Recommended!
The challenge is a hide and seek contest. Although Window's job is to find everyone, he wants to find Kite in particular and get her eliminated due to his tense hatred for the character.
Eventually, Window finds Kite, putting Team Recommended on the chopping block once again. Some of the contestants are seen voting, and it's announced that Chatterbox is eliminated, much to Window's dismay. However, Asthma Inhaler realizes that Window intentionally didn't count him as found just to get Kite eliminated, to which Kite responded saying "That's low". In a shocking twist, Window eliminated Asthma Inhaler as well.
Trivia/Reference
Edit
Chatterbox may be a reference from Dough on Inanimate Insanity II , joining the game and then getting eliminated on the debut episode.
The lip-syncing was really off in most parts.
Kite and Badge switched their seat during the elimination time